Different cryptoassets serve different purposes, and bitcoin (BTC) is not the only cryptoasset that could have a bright future ahead, but it could take time for market newcomers to grasp those distinctions, according to one of the biggest BTC bulls, Michael Saylor, CEO of software developer MicroStrategy.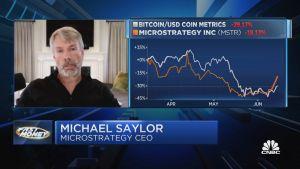 "There's a place for all of these things, properly understood. You're going to want to build your buildings on a solid footing of granite, so bitcoin is made to last forever — high integrity, very durable. Ethereum is trying to dematerialize exchanges and the finance establishment," Saylor told CNBC. "I think that as the market starts to understand these things, there's a place for everybody."
The latest statements by Saylor come as his company continues to dive into BTC, recently unveiling plans to sell USD 1bn worth of the MicroStrategy's shares and use part of the proceeds to buy more bitcoin.
"We also have the ability to raise debt financings. We're able to borrow a billion dollars at zero percent interest and buy bitcoin," Saylor said.
Indeed, they raised «free» USD 1bn last year, while this June, they raised USD 500m, selling senior secured notes that bear interest at an annual rate of 6.125%.
As reported, the company views bitcoin "as long-term holdings," and it did "not plan to engage in regular trading of bitcoin and have not hedged or otherwise entered into derivative contracts with respect to our bitcoin holdings."
As of June 4, 2021, they held approximately BTC 92,079 that were acquired at an aggregate purchase price of USD 2.251bn and an average purchase price of approximately USD 24,450 per bitcoin, inclusive of fees and expenses. This stash is worth over USD 3.67bn today.
Asked about the shareholders' take on the firm's bitcoin-oriented strategy, Saylor said MicroStrategy's investors "told us that cash was trash, it was a liability on our balance sheet" which pushed Microstrategy to "transform ourselves into a company that is able to sell enterprise software and to acquire and hold bitcoin, and we've done it successfully with leverage."
"That has increased the power of the brand by a factor of a hundred. We just had our best software quarter in history," he said. "The corporate business is up 10%. The bitcoin business is driving shareholder returns."
At 10:48 UTC, BTC trades at USD 39,914 and is down by less than 1% in a day, trimming its weekly gains to less than 19%. ETH trades at USD 2,450 and is down by almost 4% in a day and 1% in a week.