Non-fungible token (NFT)-powered play-to-earn game Axie Infinity (AXS) has seen a series of explosions, surpassing USD 1bn in sales volume, hitting 1m daily active users, and becoming «the most valuable NFT collection ever,» among others.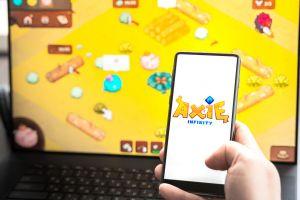 Its all-time sales volume is currently USD 1.077bn, per CryptoSlam data. It also shows 329,170 buyers, 956,431 owners, and 2.5m transactions.
In comparison, the second-placed NBA Top Shot has USD 677m in sales volume so far, followed by the CryptoPunks NFTs with USD 662m. NBA Top Shot leads here by the number of transactions, having more than 8.6m of them in total.
Just in the past 24 hours, the Axie Infinity sales volume went up 10% with USD 29m. This is ahead of CryptoPunks, as well as Bored Ape Yacht Club, World of Women, and Meebits — which all together have USD 20m in 24h sales volume, less than Axies.
Furthermore, on August 6, the team behind Axie Infinity announced that they've recorded more than 1m daily active players (DAU).
The data provided also shows that the majority of these players are Android users (685,550), followed by Windows (306,580), then Mac and iOS, respectively.
However, some of these did not have the Axie monsters NFTs needed to play the game. «Some players download the game client without owning Axies,» the team said.
The reason for this seems to be simple, as downloading the game is easy, but playing it requires purchasing NFTs. And these tend to be pricy, costing several hundred USD or even more than USD 1,000.
To combat this issue, there are types of scholarships/sponsorships and Axie loan programs being put into place. For example, there is the Yield Guild Games decentralized startup, which just recently partnered with crypto exchange FTX to provide funding to 137 new Axie Infinity «scholars» to breed new Axie monsters.
However, per developer Sky Mavis' report, the team recorded 1.082m DAU and more than 1m Axie NFTs holders as of August 9. This is up from 910,700 DAU and 836,275 wallets holding Axies seen on August 2.
According to dapp data aggregator and analysis firm DappRadar, the dapp industry registered more than 1.4m daily unique users during July alone — a 23.72% increase from June.
«Axie became the most valuable NFT collection ever,» it said, with more than USD 830m in trading volume, with USD 600m happening during July alone — representing a 453% increase from «an already robust June.»
«Despite facing several technical issues that left thousands of players without access to the gaming platform, the game not only maintained its huge usage but it increased significantly,» the DappRadar said, adding that «play-to-earn games are creating micro-economies on their own.»
AXS is the governance token for the Axie Infinity game. It helped Axie generate more revenue during July than the whole Ethereum (ETH), Binance Smart Chain (BSC), and Bitcoin (BTC) blockchains respectively, said the report, citing Token Terminal data.
According to the chart of top dapps and blockchains based on cumulative protocol revenue over the prior week, Axie Infinity took the first spot with USD 86.5m on August 8, per Token Terminal.
The massive growth did cause some issues along the way though, specifically with the server, «as our battle logic system failed to keep up with the surging number of players,» said the team in an August 3 development update, adding that the problem was resolved in a matter of days.
At 7:20 UTC, the 54th coin by market capitalization, AXS, is trading at USD 43. It's down 4.5% in a day, and it's up 12% in a week. Overall, in the past 30 days, it appreciated 157%.
The coin hit it's all-time high of USD 52 less than two weeks ago, on July 27, dropping 18% since.