Till Lindemann, the frontman of German metal band Rammstein, is selling non-fungible tokens (NFTs) featuring digital art from his recent video that was shot in the famous Hermitage Museum in Sankt Petersburg, Russia. However, the museum has now come forward to say that this sale is unauthorized, and that it violates the agreement that allowed Lindemann to shoot on the location.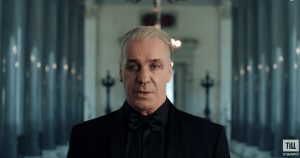 In May 2021, Till Lindemann filmed the video for his solo song Любимый город ("Beloved Town") at the Hermitage—the song was first performed in 1939 by Mark Bernes, while Lindemann's version will be used in the movie Девятаев (translated to "V2. Escape from Hell") directed by Timur Bekmambetov.
Recently, Lindemann decided to release a series of NFTs dubbed NFTill featuring short clips from the video on the twelve x twelve NFT marketplace.
The NFTs range in price from EUR 199 (c. USD 234) for the most common one, to a whopping EUR 100,000 (c. USD 117,652) for one of ten tokens featuring the whole one shot video, as well as "a dinner with Till Lindemann in Moscow including cost coverage for flight, accommodation and visa for buyer and companion," according to the marketplace.
The invitation has to be redeemed until August 22 this year, but as of the time of writing, none of these ten available NFTs have been purchased.
However, the Hermitage revealed in a press release that these NFTs are a breach of the agreement between them and Lindemann, stating:
"Just recently it turned out that Lindemann is releasing a series of NFTs with digital images taken inside the Hermitage during the shooting period. Any use of images of items from the museum's collections and of its interior in the collection of tokens, supplied with the logo Hermitage Edition, had not been agreed and could not have been agreed with the museum."
The statements add that Lindemann has received warnings against violations of the museum's licensing policies even before the series was released, but they remained unanswered.
Furthermore, the Hermitage believes that the incident cannot "be attributed to some imperfectness of world legislation in this field or to banal ignorance." However, it is unclear what sort of repercussions the singer might be facing, if any.
Meanwhile, the marketplace shows that 18 of the NFTs priced at USD 234 have been sold, along with four of those valued at USD 351. Each of the more expensive ones—EUR 999 (USD 1,175), EUR 5,000 (USD 5,882), and EUR 100,000 (USD 117,652)—is still available.