Bitcoin price gained bullish momentum and it even surpassed USD 34,000. Ethereum is consolidating near USD 2,000, XRP is gaining pace above USD 0.600. ENJ, QNT, and SOL rallied over 23%.
Bitcoin price started a strong increase above the USD 32,000 level. BTC even broke the USD 33,500 and USD 34,000 resistance levels. The current (12:15 PM UTC) price action suggests a possibility of more upsides above USD 34,500 in the near term.
Similarly, most major altcoins are showing positive signs. ETH gained pace and it is now consolidating near the USD 2,000 zone. XPR/USD outperformed and it jumped above USD 0.620.
Total market capitalization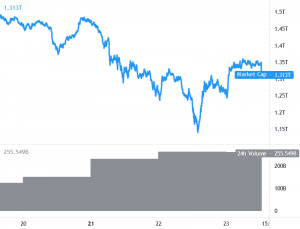 «Also intensifying the volatility of the markets is the USD 2.5bn worth of options and another USD 2bn in futures contracts which are set to expire this Friday. Historically, the Bitcoin option expiries have led to increased volatility, so given how things have been moving recently, this month is likely to be no different,» Alexandra Clark, Sales Trader at the UK-based digital asset broker GlobalBlock, said in an emailed comment.
Bitcoin price
There was a strong recovery in bitcoin price above the USD 32,500 resistance zone. BTC surpassed many hurdles and it cleared the main USD 33,500 barrier. The price even climbed above USD 34,000 and it is now trading with a bullish angle. If the bulls remain in action, there are chances of a break above USD 35,000. The next major barrier is near the USD 36,500 level.
Conversely, there might be a downside correction below USD 34,000 and USD 33,800. The first key support is near USD 33,500, below which the price might test USD 33,000.
«Unlike the previous times, there is little leverage in the system on the long side currently, this was visible from the gradual drop versus the sharp drops that we saw in mid-May. In fact, naked shorts have started to enter the market and the risk of sharp rises due to short squeezes is higher,» Pankaj Balani, CEO of Delta Exchange, said in an emailed comment, adding that they expect BTC to hold the USD 30,000 — USD 42,000 trading range for now and test it a few more times before making any decisive move in either direction.
«The global macro environment is positive and till the time there is a big change in that we don't expect Bitcoin to break the USD 30,000 support,» he said.
Ethereum price
Ethereum price also recovered above the USD 1,920 resistance. ETH even broke USD 2,000 and it tested USD 2,050. The price is now trading in a range, with an immediate support at USD 1,960. The first key support is near the USD 1,920 level.
On the upside, an initial resistance is near the USD 2,050 level. The main breakout resistance for more upsides is now forming near USD 2,120.
BNB, LTC, DOGE, and XRP price
Binance coin (BNB) climbed above the USD 265 and USD 280 resistance levels. BNB is now struggling to clear USD 300. If the bulls succeed, there are chances of another spike in the near term. On the downside, the USD 280 is a decent support, below which the price might revisit USD 265.
Litecoin (LTC) is up over 10% and it is trading above the USD 125 level. If LTC clears USD 132 and USD 135, it could open the doors for a move towards the USD 150 level. On the other hand, there could be a fresh dip towards the USD 112 support.
Dogecoin (DOGE) broke the USD 0.212 and USD 0.220 resistance levels. It is now consolidating gains above USD 0.200. If there is a fresh decline, the price might find bids near USD 0.180. The main support is now forming near the USD 0.165 level.
XRP price gained pace above the USD 0.600 level. The price even cleared USD 0.620 and it spiked towards USD 0.650. In the short-term, there could be a downside correction, but the bulls might remain active near USD 0.600.
Other altcoins market today
Many altcoins climbed over 15%, including SOL, LPT, CELO, QNT, COMP, HNT, ENJ, CHZ, RUNE, DGB, CAKE, NEXO, UNI, ZEC, and XLM. Out of these, SOL rallied almost 38% and cleared USD 30.
To sum up, bitcoin price recovered sharply above USD 33,000 and USD 33,500. If BTC surpasses USD 35,000, it might be a strong bullish signal. Conversely, it may possibly correct gains and test USD 33,000.